CHANGEOVER OR CLEANING FREQUENCY OF HOSPITAL CURTAINS
The life cycle of a good quality woven textile is approximately ten years, whereas a disposable polypropylene curtain has a life cycle of between 12 – 24 weeks. Regardless of the curtain type and its antimicrobal properties, the only truly effective wash or replacement cycle is to replace after every patient.
In different countries, guidelines are different for the frequency to replace medical disposable curtains or cleaning of woven textile curtains. For example in Britian, it is usually required to replace disposable curtains or clean the woven medical curtains after 6 months while in Australia it is generally 12 months.
In Britian, according to CQC (Care Quality Commission, the independent regulator of health and social care in England) inspection standards, in order to facilitate the prevention and control of infections:
If disposable curtains are used, the date should be clearly entered and they should be replaced six monthly.
If re-usable curtains used, they should be taken down and cleaned at 60 degrees at least six monthly and immediately when soiled.
They should be vacuumed weekly as part of the general cleaning schedule.
They should be well maintained, free of tears and clear of the floor.
LONGWAY disposable cubicle curtains bear a date table on the front pleat where hospitals can write clearly when the curtain is installed.
http://www.longway-tex.com/disposable-hospital-cubicle-curtain.html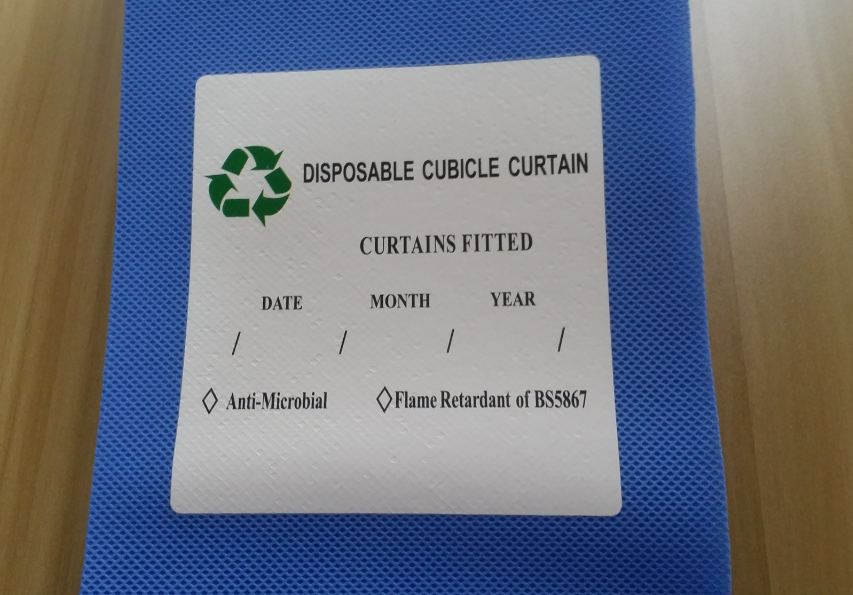 In Australia, NHMRC (National Health and Medical Research Council ) 2010 states more detailed guidelines for changeover of medical curtains:
Area
Medical Disposable Curtains
Medical Reusable Curtains

Very High Risk

:

Outbreak of an infectious disease

Change immediately and upon discharge of the patient and dispose
Patient with MRO or other infectious disease – change immediately and clean upon discharge

High Risk

:

Intensive care unit

High dependency unit

Burns unit

Renal units

Operating suite

Change annually unless soiled, torn and /or compromised;

Patient with MRO or other infections disease – change immediately

Change or clean monthly;

Patient with MRO or other infectious disease – change immediately and clean upon discharge

Significant Risk

:

General Wards

Change annually unless soiled, torn and /or compromised;

Patient with MRO or other infections disease – change immediately

Change or clean biannually;

Patient with MRO or other infectious disease – change immediately and clean upon discharge

Low Risk

:

Rehabilitation

Long-term Care

Office Based

Change annually unless soiled, torn and /or compromised;

Patient with MRO or other infections disease – change immediately

Change or clean annually;

Patient with MRO or other infectious disease – change immediately and clean upon discharge
---
Post time: Dec-05-2018